The (r)evolution of the rate shopper and its mutation into a Price Intelligence Platform
Revenue
30/09/2022
Countdown to Price Seeker v4
Technology, like the needs of hotels, is in a process of permanent change. Business strategies, revenue, marketing, etc. They are almost exclusively based on data, and these, in turn, are like an entity with a life of its own that does not stop integrating new indicators, formulas, display formats and analytical variants, in response to the constant proliferation of the most varied requirements. by the professionals called upon to exploit them.
What in the past could have been an A, may now barely touch the pass, and the only valid path for tool developers is to adjust their cruising speed to that of this wheel that does not stop turning. Even more. Overcome it to be able to anticipate and overcome unexpected obstacles or sudden changes in direction.
Spoiler alert! We are going to reveal some details of the most recent episode in the history of
Price Seeker
, our rate shopper, and its mutation into
a Comprehensive Price Intelligence Platform
.
We like to define the next and imminent launch of
Price Seeker v4
, and that everyone understands it that way, more than as an evolution, as
a true revolution of this product
, flagship of our brand. This version, the most ambitious to date, has led us to rethink, even its categorization. And it is that, perhaps, the concepts of rate shopper and rate checker, already fall short.
a bit of background
Before getting into the matter, let's take a look back. It is important to know that
Price Seeker arose from the concern of our own colleagues
, revenue and account managers who felt the need to automate certain processes in order to carry out more exhaustive monitoring of the growing number of hotels they managed.
In other words, like so many other solutions that we have developed in-house,
Price Seeker
was originally conceived as a tool for internal use, an ally that would allow us to continue increasing direct sales from our clients through price control. , and those of its competitive set, in its distribution channels. It didn't take us long to realize its potential... The rest came alone, backed by an unwavering argument: if it's useful for us, it will also be useful for any hotel establishment, regardless of its degree of involvement with direct sales. A star was born and his role was none other than
to monitor, generate and boost sales in the channels of greatest interest
, whatever they were, according to the commercial strategy of each accommodation.
Throughout almost a decade of production,
Price Seeker
has passed through the hands of revenue managers from leading hotel chains and groups, such as Meliá, Barceló, Blue Bay, Eurostars, Iberostar, RIU, Fuerte or Best Hotels, which It certainly constitutes a guarantee of its reliability.
But it has been by identifying actions or discount programs implemented unilaterally by the large OTAs, to the detriment of the interests of the hotels, when it has hit the table. For example, the detection of the Booking Early Payment Benefit comes to mind, even before its arrival in Spain. Expedia would later follow in his footsteps and, once again, the exclusive was carried out by our tool.
Price Seeker v4, what's new mate?
Now yes, we leave the past behind, we place ourselves in the present and look to the future. As we already mentioned,
Price Seeker v4
is the definitive twist. A (r)evolution attacked from all possible sides. From the redesign of the UX, to the implementation of a wide range of brand new functionalities, through the inclusion of new indicators, a vocabulary and a more "hotel friendly" nomenclature, up to three different packages and the possibility of contracting and starting it. directly online. All this, focusing on the management of the establishment, but, above all, on its profitability. Let's see it in detail.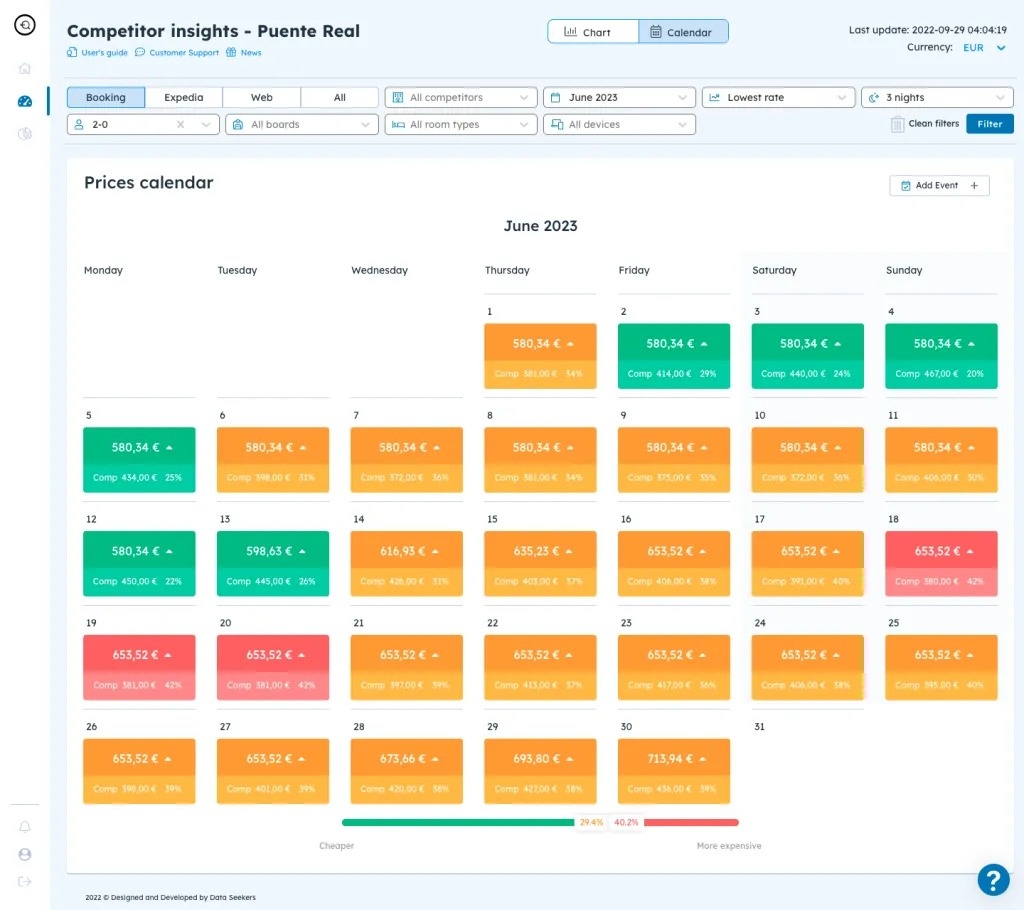 User Experience : We won't dwell too long on this point. Just to say that we have listened to you and we will continue to do so. We are taking note and the new look & feel will reflect this. In any case, the best thing you can do is try it. By the way, we are going to launch a Price Seeker Beta Testers campaign. Do you want to be part of "The Chosen Ones"? Stay tuned.


Monitoring of the vacation package / flight + hotel : One of our main objectives is to grow hand in hand with projects in which the flight + hotel is of vital importance. Price Seeker v4 monitors the competitiveness of hotels in more than 200 distribution points, including tour operators and highly relevant platforms, such as Jet2Holidays or TUI. Remember that we work with hotels in multiple destinations, so we can apply this criteria to any channel with which you may be interested in making comparisons.


Control of disparities taken to the highest level :

You will receive real-time alerts of disparities in the direct channel, identifying as priority those with a high probability of abandonment .
Price Seeker v4 indicates the opportunity cost , because it is not the same to know that you have disparities, than to know the real cost that they imply for you in each channel.
Specific dashboards for hotel chains.



Competition : detection of functionalities and promotions, including aspects such as the "last available rooms".


Market data : online reputation of the destination, prices of the place, tour operators, flights...


And also : all the advantages of a pricing tool aimed at providing information in an agile and reliable manner, but with a degree of detail prepared to satisfy the highest levels of demand:

Competition monitoring.
Parity monitoring.
Maximum reliability and solidity of the data, supported by screenshots.
Personalized alert system.
Competition and parity report generator.
Events and notes.
Daily updates.
Selection of your competitive set.
Free setup.
Free personalized training.
Online support.

Up to here we can read... Follow us on our usual communication channels to be aware of new steps.
Price Seeker v4 is coming very soon
.